Retail Medicine [STAT*Sheet]
This STAT*sheet explores the evidence-base surrounding retail medicine. You are free to download and distribute provided that no modifications are made.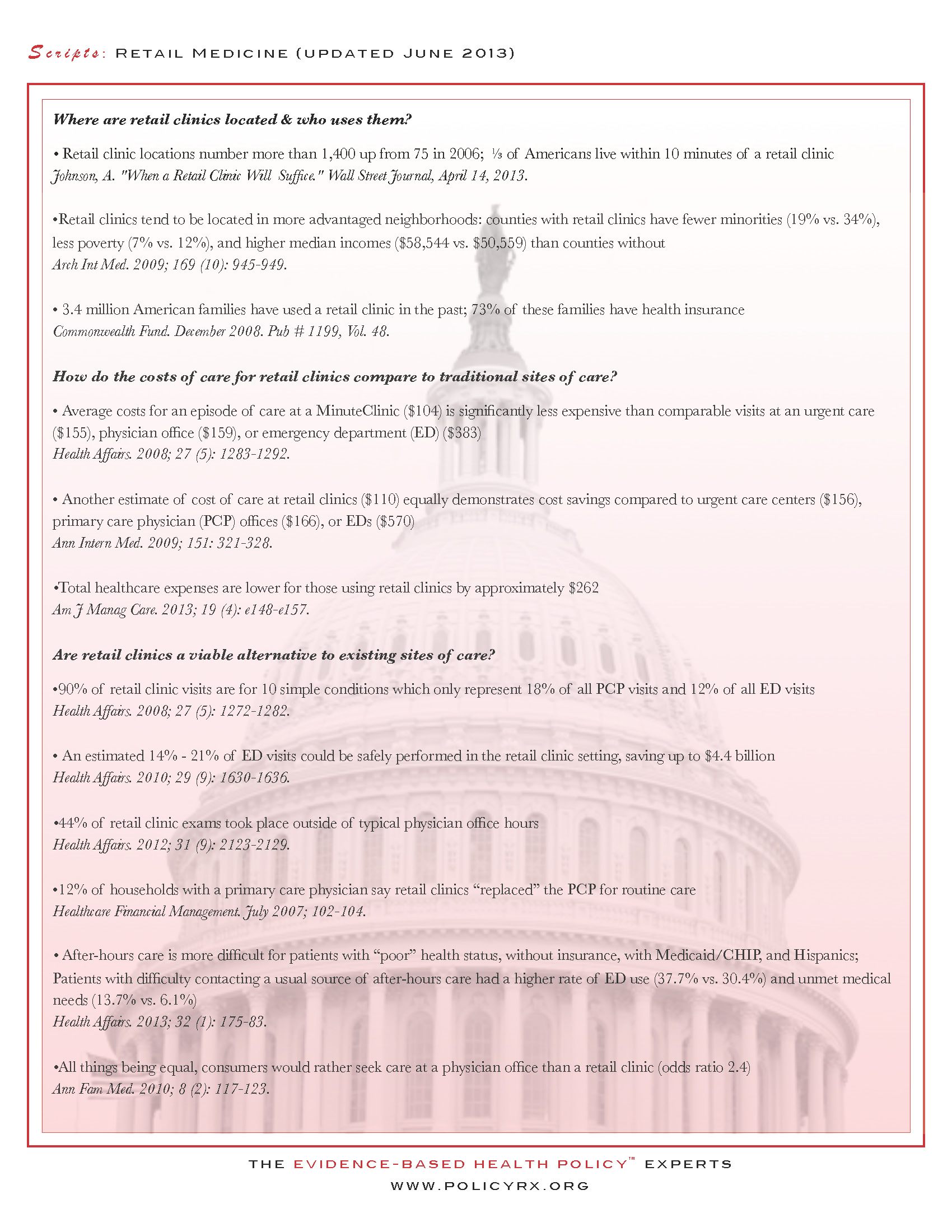 Where are retail clinics located and who uses them?
• Retail clinic locations number more than 1,400 up from 75 in 2006; ? of Americans live within 10 minutes of a retail clinic
Johnson, A. "When a Retail Clinic Will Suffice." Wall Street Journal, April 14, 2013.
•Retail clinics tend to be located in more advantaged neighborhoods: counties with retail clinics have fewer minorities (19% vs. 34%), less poverty (7% vs. 12%), and higher median incomes ($58,544 vs. $50,559) than counties without
Arch Int Med. 2009; 169 (10): 945-949.
• 3.4 million American families have used a retail clinic in the past; 73% of these families have health insurance
Commonwealth Fund. December 2008. Pub # 1199, Vol. 48.
How do the costs of care for retail clinics compare to traditional sites of care?
• Average costs for an episode of care at a MinuteClinic ($104) is significantly less expensive than comparable visits at an urgent care ($155), physician office ($159), or emergency department (ED) ($383)
Health Affairs. 2008; 27 (5): 1283-1292.
• Another estimate of cost of care at retail clinics ($110) equally demonstrates cost savings compared to urgent care centers ($156), primary care physician (PCP) offices ($166), or EDs ($570)
Ann Intern Med. 2009; 151: 321-328.
•Total healthcare expenses are lower for those using retail clinics by approximately $262
Am J Manag Care. 2013; 19 (4): e148-e157.
Are retail clinics a viable alternative to existing sites of care?
•90% of retail clinic visits are for 10 simple conditions which only represent 18% of all PCP visits and 12% of all ED visits
Health Affairs. 2008; 27 (5): 1272-1282.
• An estimated 14% – 21% of ED visits could be safely performed in the retail clinic setting, saving up to $4.4 billion
Health Affairs. 2010; 29 (9): 1630-1636.
•44% of retail clinic exams took place outside of typical physician office hours
Health Affairs. 2012; 31 (9): 2123-2129.
•12% of households with a primary care physician say retail clinics "replaced" the PCP for routine care
Healthcare Financial Management. July 2007; 102-104.
• After-hours care is more difficult for patients with "poor" health status, without insurance, with Medicaid/CHIP, and Hispanics; Patients with difficulty contacting a usual source of after-hours care had a higher rate of ED use (37.7% vs. 30.4%) and unmet medical needs (13.7% vs. 6.1%)
Health Affairs. 2013; 32 (1): 175-83.
•All things being equal, consumers would rather seek care at a physician office than a retail clinic (odds ratio 2.4)
Ann Fam Med. 2010; 8 (2): 117-123.